VI has always put a lot of love into their offices' space because it should be more than a collection of desks. But what to do when working at home is the new normal?
The pandemic has sent people to the home office and moved meetings to the digital world. Many offices remained empty. Although that was also the case at Virtual Identity, the situation is gradually changing again. One thing can already be said: The offices will stay less populated. But what does this mean for the future of VIs' offices: Should the offices be closed permanently? Where can the culture be experienced? And what to do without a chat at the coffee machine?
Anyone who enters the Virtual Identity office building in Munich on Thalkirchen is standing in a building that has won prizes. The former Locomotive workshop was converted into the agency's headquarters in 2016. The design left the building open in the middle,  pushing working spaces and meeting rooms over two floors to the sides. The central square includes also the kitchen table and became the space to gather informally. Just two years ago, visitors would have come to a lively place. In a building full of voices, laughter, groups, movement. Very possible that you would have heard the sound of ping-pong balls, that someone would have cooked in the open kitchen or that the wide steps up to the upper floor would have been full of people because there was something to say that was for everyone. Today, in autumn 2021, after two national lockdowns, you will not meet more than ten people at the Munich location.
... we cooked together as a team event, everyone at home. It was funny, but not the same.
One of them is Joachim Roschka, 35 years old, Senior Designer. He has been here every day for half a year. Although he doesn't have to. No one has to. VI adopted a remote work policy at the end of 2020. Anyone is allowed to work from home, without giving reasons. Joachim, however, saw more benefits to go to the office anyway. "I found it difficult that work and private life had been very mixed," says the designer. "Precisely because I also brought customers home through the hours of calls. I didn't have a separate office, had to work from the dining table or from the desk in the bedroom." Now there is again a local separation for him, plus a commute that marks the transition. He is also happy about real meetings, for example at the coffee machine. "We once tried to drink coffee together via video call," Joachim recalls. "And we cooked together as a team event, everyone at home. It was funny, but not the same."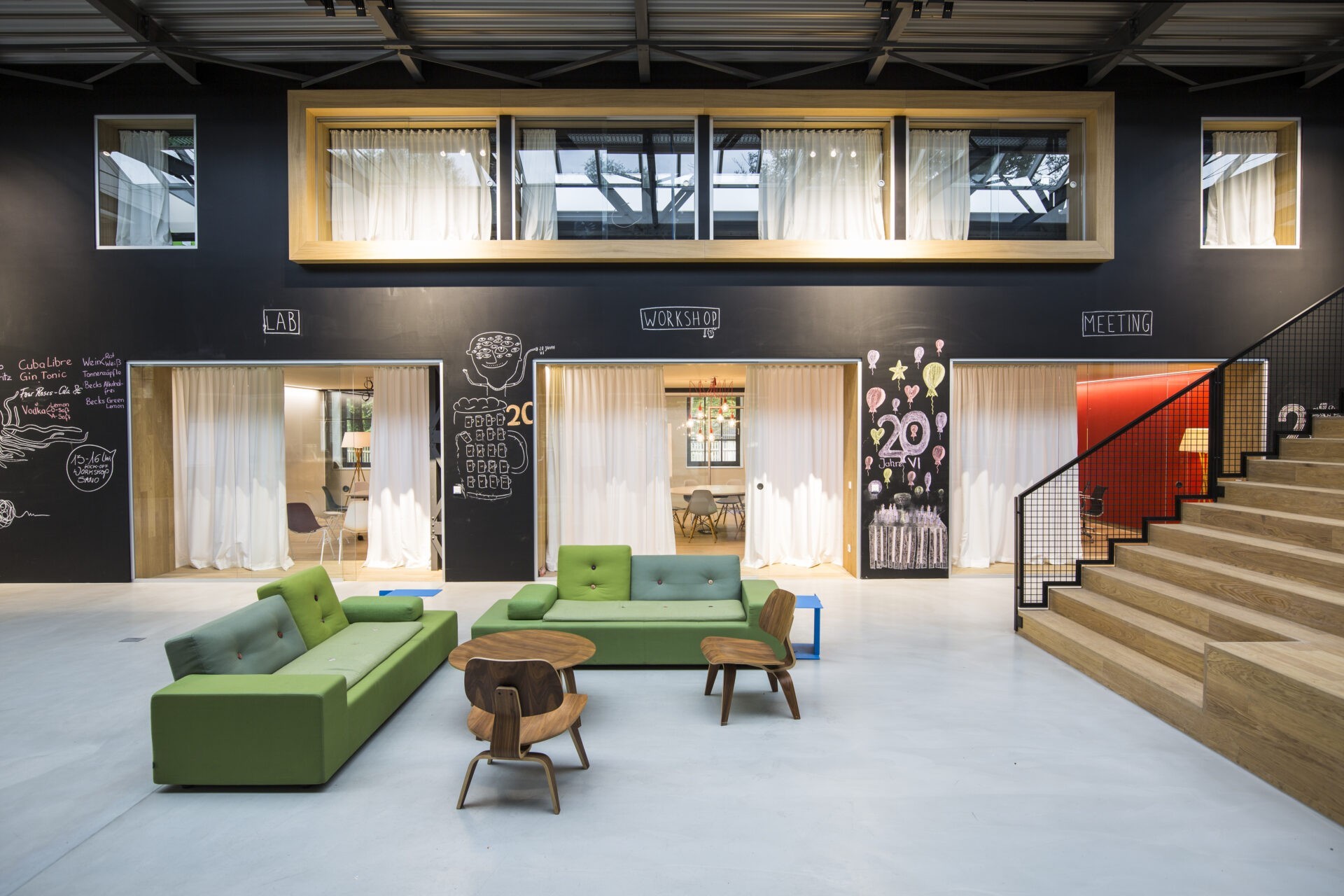 The Munich office is designed that exchanges by chance take place easily because unplanned talks promote creativity and innovation. So there are deliberately long distances to the espresso machine and as many places as possible where employees can meet and spontaneously linger – be it on the extended-stair seating steps or the sofa landscape on the market square or on the cooking island, which protrudes extended to the dining table in the middle of the office. Planned togetherness. Discovery pre-drawn by floor plan. Calculated inspiration. But what good is that if most people work from home?
Spontaneous encounters do not happen anymore. I only talk to those with whom I have arranged to  meet.
"Spontaneous encounters do not happen anymore. I only talk to those with whom I have arranged to  meet", says Kirsten Heller in the Freiburg office. Except for a few hardcore office users, there is no one here either. "Companies are facing a new challenge: How to nurture relations and exchange with people I don't work with directly " says the HR manager. She believes that a companies success is driven also by the quality of informal networks. "In these conversations one question asked can change a perspective and lead to a promising idea or better solution"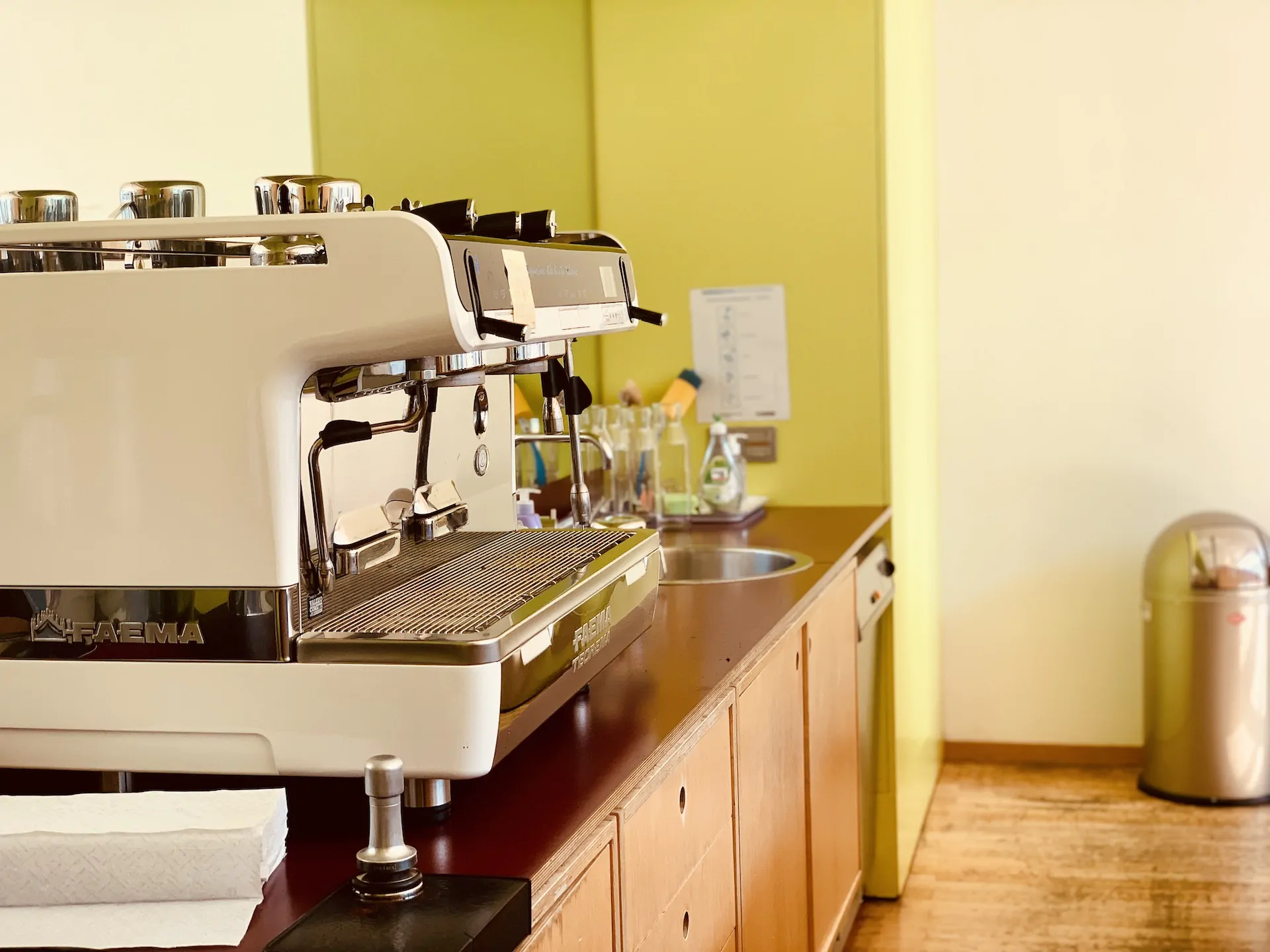 As Head of Human Resources, she knows from many conversations how far the employees' wishes diverge on the subject. There are those who say: I miss the office. Can't you make everyone come back? And those who think:  I like to decide for myself where I work and have more freedom how to structure my day.
The new normal also has its advantages.  In the last year 50% of the colleagues who had joined VI do not live near by the office locations and do not plan to move there. And why not work where others go on vacation? Unfortunately, the intergovernmental regulations lag behind the current development
We have decided to keep the offices, but with a new purpose.
In spite of everything, physical space remains important. Even a digital agency needs a real home. A real coffee machine. People sitting in a room. At least every now and then. "We have decided to keep the offices," says the Head of Human Resources. "But with a new purpose." Fewer individual workstations, more working spaces for teams, fewer meetings, more events. New approaches are needed to repopulate the offices. But no matter how she is certain: "Offices will continue to play a role in our colleagues' work experience"